Join us for the first ever grassroots Pride Festival in Macomb County!
On October 15-17, 2021, downtown Mount Clemens will host the inaugural Macomb County Pride Festival, featuring a Street Fair on Macomb Place and live performances. With a goal to develop an annual event, Macomb County Pride will celebrate and empower the region's LGBTQ+ community through this family- and pet-friendly Pride Festival, and by offering participatory opportunities to local groups and organizations to highlight their support and resources available to the LGBTQ+ community in Macomb County.
Free Parking in Downtown Mount Clemens. Friday after 6pm and all day Saturday & Sunday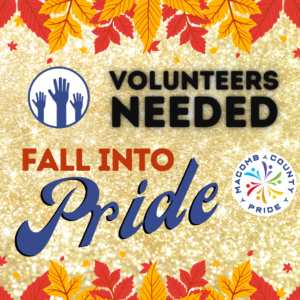 VOLUNTEER SIGN UP:
Fall into PRIDE with Macomb County Pride
Thank you all for your interest in volunteering at the inaugural Macomb County Pride festival in downtown Mount Clemens!
We are in need of event volunteers for the Saturday, October 16 street fair festival. Although it turned out that we are unable to have a carnival midway on Main Street after all – an unfortunate result of the ongoing COVID-19 pandemic – we do have a full line up for the day. We are approaching 80 total booth spaces between arts vendors, nonprofit resources, and sponsors, and still have plans for a full lineup of performances on our main stage, sponsored by Shango Hazel Park, a family fun area with games, art activities, and more, and with a new addition of DJ Emily Rogers performing at a mid-fair location.
Please review the available jobs and time slots in Sign Up Genius at the link below and click on the button to sign up. The main event time is 12:00 – 6:30 pm plus we also need help before and after the event in some of the positions. Most of the shifts are 2 hours long, so you will still have plenty of time to enjoy the event.
Please check in 15 minutes before your shift at the Macomb County Pride Table near the Fountain Stage on Macomb Place.
If we have more volunteers than slots, we can always use your help to be a joyful and welcoming attendee at the event (and bring your family and friends). Please feel free to stop by the MCP table to say hello and see if we have any last minute needs. The Pride Pub Crawl on October 15 and the Drag Queen Brunch on October 17 do not currently require volunteers, but certainly your attendance would be fabulous.
If you are unable to volunteer for a shift, please make sure to remove your name in Sign Up Genius before the event so that someone else can sign up.
Let's make this event shine. Thank you!
PRIDE PUB CRAWL
Friday,
October 15
6pm-Close
Join Macomb County Pride for a night on the town in Downtown Mount Clemens! Reminder: FREE PARKING AFTER 6PM
Participating bars include:
Little Lorraine's

Gumbo's

Abbibo

Orleans

Cellar 104

O'Halloran's

Bath City Bistro

Your Mother's

Madison's Pub

Three Blind Mice
FALL INTO PRIDE
Saturday,
October 16
12pm-6:30pm
Join us for the first ever grassroots Pride Festival in Macomb County!

Street Fair with resources & venders

Live performances

Headliner performance by Nikki Holland & the Dirty Elizabeths

FREE PARKING ALL WEEKEND
DRAG QUEEN BRUNCH
Sunday,
October 17
11am – 1pm
A Crystal Harding Production with Dela D. Dellataro & Kourtney Charles!
Delicious brunch by Gumbo's in Downtown Mount Clemens! And OF COURSE Bloody Marys & Mimosas!
This event is best enjoyed by those 18 years old or older.
STAGE SPONSORED BY


Anonymous
Mancini Schreuder Kline PC
McLaren Macomb

Bell's Roofing & Construction
Consumers Energy
Macomb Community College
State Representative Kevin Hertel
UAW Local 2280
Affirmations LGBTQ+ Community Center
ARC of Macomb
Bees in the D
Jade Chaos
Jen Oresti
CNS Healthcare
Democratic Clubs of Macomb County
Alysa Diebolt & Cardi DeMonaco, Jr.
Fems for Democracy
Flagstar Bank
KnowResolve
Kristina Fronrath
Jennifer Gale | The Urban Naturopath
The Lenda/Fleck Family
Macomb Pharmacy and Wellness
MyCare Health Center
RYME Media
Stand with Trans
Sunrise Sconery
Wentworth & Associates, PC
June 2021 as LGBTQ+ Pride Month Resolutions
In 2020, seven Macomb County communities declared June as LGBTQ+ Pride Month. Help us reach our goal of ELEVEN communities in 2021!
2020: Clinton Township, Eastpointe, Mount Clemens, Roseville, Sterling Heights, Utica, and Warren
2021: Clinton Township, Chesterfield Township, Eastpointe, Mount Clemens, Romeo, Roseville, Sterling Heights, Utica, and Warren
Download the Sample Resolution HERE:
Find the Contact Info for your Elected Officials HERE:
Macomb County Pride events
Be sure to check out our Facebook Page for
upcoming events you might want to attend!
2021 Pride Partners
These local businesses have been vital in making some of our Macomb County Pride events happen!