Join us for the first ever grassroots Pride Festival in Macomb County!
On October 15-17, 2021, downtown Mount Clemens will host the inaugural Macomb County Pride Festival, featuring a Street Fair on Macomb Place and live performances. With a goal to develop an annual event, Macomb County Pride will celebrate and empower the region's LGBTQ+ community through this family- and pet-friendly Pride Festival, and by offering participatory opportunities to local groups and organizations to highlight their support and resources available to the LGBTQ+ community in Macomb County.

Anonymous
McLaren Macomb

Bell's Roofing & Construction
Consumers Energy
Macomb Community College
State Representative Kevin Hertel
Affirmations LGBTQ+ Community Center
ARC of Macomb
Bees in the D
Jade Chaos
CNS Healthcare
Alysa Diebolt & Cardi DeMonaco, Jr.
Fems for Democracy
Kristina Fronrath
Jennifer Gale | The Urban Naturopath
The Lenda/Fleck Family
Macomb Pharmacy and Wellness
Stand with Trans
Sunrise Sconery
Wentworth & Associates, PC
Sponsorship Opportunities Available!
Join us as a sponsor of our inaugural event. There are four giving levels, including one presenting sponsorship!
Download the information here.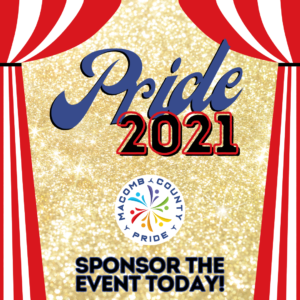 Street Fair on Macomb Place
Vendors & Makers – seeking vendors and artists of hand-crafted items, services and activities as well as LGBTQ+ focused merchandise.
We are at capacity for nonprofit resource vendors – additional nonprofit resource vendor applications will be accepted by invite only. Please contact info@macombcountypride.com to learn more.
Deadline: September 25, 2021
June 2021 as LGBTQ+ Pride Month Resolutions
In 2020, seven Macomb County communities declared June as LGBTQ+ Pride Month. Help us reach our goal of ELEVEN communities in 2021!
2020: Clinton Township, Eastpointe, Mount Clemens, Roseville, Sterling Heights, Utica, and Warren
2021: Clinton Township, Chesterfield Township, Eastpointe, Mount Clemens, Romeo, Roseville, Sterling Heights, Utica, and Warren
Download the Sample Resolution HERE:
Find the Contact Info for your Elected Officials HERE:
Macomb County Pride events
Be sure to check out our Facebook Page for
upcoming events you might want to attend!
2021 Pride Partners
These local businesses have been vital in making some of our Macomb County Pride events happen!