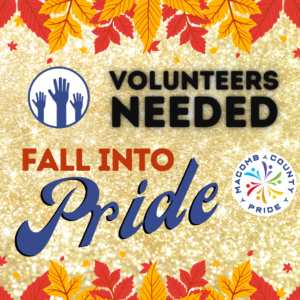 VOLUNTEER SIGN UP:
Fall into PRIDE with Macomb County Pride
Thank you all for your interest in volunteering at the inaugural Macomb County Pride festival in downtown Mount Clemens!
We are in need of event volunteers for the Saturday, October 16 street fair festival. Although it turned out that we are unable to have a carnival midway on Main Street after all – an unfortunate result of the ongoing COVID-19 pandemic – we do have a full line up for the day. We are approaching 80 total booth spaces between arts vendors, nonprofit resources, and sponsors, and still have plans for a full lineup of performances on our main stage, sponsored by Shango Hazel Park, a family fun area with games, art activities, and more, and with a new addition of DJ Emily Rogers performing at a mid-fair location.
Please review the available jobs and time slots in Sign Up Genius at the link below and click on the button to sign up. The main event time is 12:00 – 6:30 pm plus we also need help before and after the event in some of the positions. Most of the shifts are 2 hours long, so you will still have plenty of time to enjoy the event.
Please check in 15 minutes before your shift at the Macomb County Pride Table near the Fountain Stage on Macomb Place.
If we have more volunteers than slots, we can always use your help to be a joyful and welcoming attendee at the event (and bring your family and friends). Please feel free to stop by the MCP table to say hello and see if we have any last minute needs. The Pride Pub Crawl on October 15 and the Drag Queen Brunch on October 17 do not currently require volunteers, but certainly your attendance would be fabulous.
If you are unable to volunteer for a shift, please make sure to remove your name in Sign Up Genius before the event so that someone else can sign up.
Let's make this event shine. Thank you!
About Macomb County Pride
Mission Statement
Macomb County Pride has a mission to create a supportive environment for the LGBTQ+ community and to be a resource in Macomb County.
Inclusion Statement
We respect and affirm the dignity of all people and promise to create pathways for inclusivity and support opportunities for all. We are focused on fostering a vibrant culture where everyone is respected and has a sense of belonging.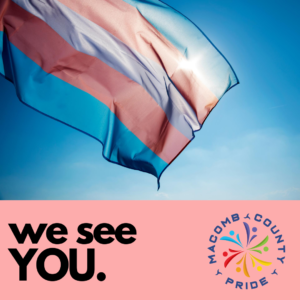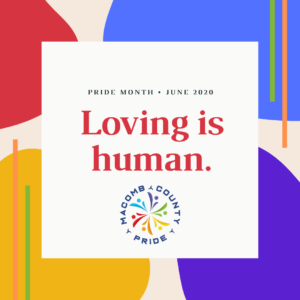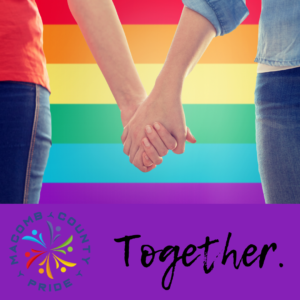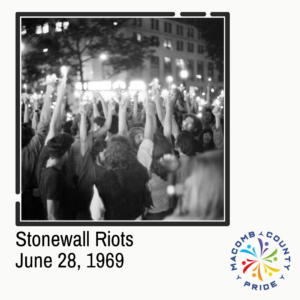 Volunteer
Want to help us pull all this off? We're looking for interested individuals with equality in their hearts! Click below and we'll get you plugged into our volunteer list! Your contact info will never be shared.