Join us on the First Sundays of the month for a check in with Macomb County Pride, ongoing efforts, and upcoming events. We're inviting new guest speakers every month – so you won't want to miss this!
Upcoming OUT look Schedule
Do you have an idea for something or someone we could feature on an upcoming OUT look? Send us an email: info@macombcountypride.com
February 2021
Topics & Guest Speakers: Ruth Ellis Center, Black HIV/AIDS Awareness Day, Pride Month Resolutions, and more!
March 2021
Topics: Book Club (March is Reading Month), LGBTQ Health Awareness Week, and Foster Care/Adoption!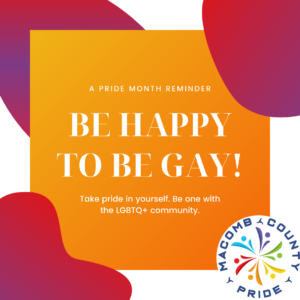 April 2021
Topics: Lesbian Visibility Day, Sexual Assault Awareness Month, and more!